7 Day Rangiroa Escape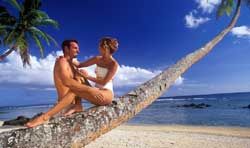 7 Day Rangiroa Escape
The Package:
Rangiroa is the largest atoll in the Tuamotus, and one of the largest in the world. Rangiroa is quite possibly the world's most immense natural aquarium. Blessed with an accessible yet secluded appeal and a large abundant lagoon, this renowned destination should be at the top of every eager diver's list.
Round trip flights on award-winning Air Tahiti Nui from Los Angeles to
...

Travel2 was created by the partnership of two renowned travel brands: Newmans Vacations and ATS Tours. Combined with Islands in the Sun, our sister company specializing in romance travel, we bring more than 200 years of experience in designing customized travel itineraries to Australia, New Zealand, the South Pacific Islands and Asia.
We understand that no two travelers are alike so we offer endless travel choices for first-time visitors and unique, "off-the-beaten-path" itineraries
...