LIMITED-TIME OFFER FOR SKYMILES® MEMBERS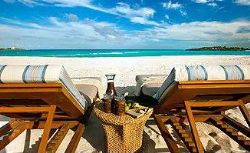 There's nothing more exciting than planning your long-awaited vacation. Get back to creating memories with more miles or the savings you deserve.
Now, you can get more with Delta Vacations. Take advantage of our best mileage offer yet of up to 75K bonus miles or up to $350 off per booking.
Plus, SkyMiles Members can get to Medallion® Status faster through the end of the year by earning up to 75% more toward Status on Delta flights.*
Not a SkyMiles Member? Join for free today.
*Applies on Delta-operated flights. Medallion Accelerator bonuses apply toward earning Medallion Status only and do not include redeemable miles.

With more than 50 years in business, Delta Vacations is one of the largest vacation package providers in the United States, and is a Delta Air Lines company. Delta Vacations is the convenient, one-stop shopping experience for customers and travel advisors, who are looking to book memorable getaways that feature Delta's notable flight service, combined with stays at 5,000+ hotels and resorts. Our dedication to providing above-and-beyond experiences has earned Delta Vacations numerous industry awa
...
Multiple itineraries available